5g

5G protection

ADHD

emf

emf protection
06/03/2020
How Does EMF and 5G Affect Our Children?
WHAT DOES THE SCIENCE SAY ABOUT WIRELESS RADIATION AND CHILDREN?
Research shows that because of children's thinner skulls, their developing brains, eyes and bone marrow absorb more radiation at a rate of three to ten times deeper than adults and it's affecting them immensely.
In fact, a 2018 study found an impact to short term memory in teenagers who used cell phones to their head for just a year. Published research also links wireless exposure to hyperactivity, behavior problems damaged sperm, and altered brain development in the long term.
HANDHELD SCREEN TIME LINKED WITH SPEECH DELAYS IN YOUNG CHILDREN
Researchers at the University of Toronto in 2017 reported for the first time that smartphone or tablet use before the age of 2 caused a delay in speech development. The 4-year study showed that for each 30-minute increase in handheld screen time, researchers found a 49 percent increased risk of expressive speech delay.
EXPOSURE LIMITS: THE UNDERESTIMATION OF ABSORBED CELL PHONE RADIATION, ESPECIALLY IN CHILDREN
A child's head's absorption can be over two times greater than that of an adult, and absorption of the skull's bone marrow can be ten times greater than adults. Therefore, a new certification process is needed that incorporates different modes of use, head sizes, and tissue properties in order to understand these affects and how to mitigate them to encourage proper brain development in chidlren.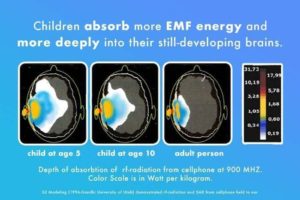 THE IMPACT OF CELL PHONE RADIATION ON THE BRAIN
Countless studies have been conducted which demonstrate the effects of cell phone radiation on young minds but has largely been ignored or simply not presented by those making laws regarding the implementation of cell towers before and after the creation of 5G.
NIH research found cell phone radiation altered brain activity in areas of the brain closest to the radiating antenna (Volkow 2011).
Swiss Tropical and Public Health Institute found decreased memory performance in adolescents from cumulative exposure to cell phone radiation in a 2018 study which replicated a 2015 study (Foerster 2018).
A Yale Medicine study found prenatally exposed mice had altered brains, poor memory and were hyperactive (Aldad2011).
University of California School of Public Health research found children exposed to cell phones before and after birth were more likely to have behavior problems than unexposed children (Divan 2008, Divan 2012).
High prenatal cell phone use linked to hyperactivity/inattention problems in child- 83,884 mother-child pairs (Birks 2017)
MOBILE PHONE RADIATION MAY AFFECT MEMORY PERFORMANCE IN ADOLESCENTS
Many parents, teachers, and superintendents alike have implemented rules for proper cell phone use during the school day. Many have blamed cell phones for being distracting during the school day, but evidence is mounting that cell phones are not merely distracting, but a root cause for memory issues in adolescents.
The study to be published on 19 July 2018 found that cumulative RF-EMF brain exposure from mobile phone use over one year may have a negative effect on the development of figural memory performance in adolescents, confirming prior results published in 2015. Figural memory is mainly located in the right brain hemisphere and association with RF-EMF was more pronounced in adolescents using the mobile phone on the right side of the head. "This may suggest that indeed RF-EMF absorbed by the brain is responsible for the observed associations." said Martin Röösli, Head of Environmental Exposures and Health at Swiss TPH.
Foerster M., Thielens A., Joseph W., Eeftens M., Röösli M. (2018) A prospective cohort study of adolescents' memory performance and individual brain dose of microwave radiation from wireless communication.
Environmental Health Perspectives.
SCHOOL CELL TOWER STUDY IN 2018 STUDY SHOWS COGNITIVE DECLINE IN STUDENTS
Meo 201 – A recent case controlled 2 year scientific study examining the neurologic effects of children, aged 13-16,  in schools with nearby cell towers revealed significant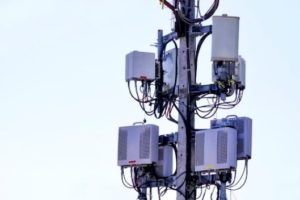 decline in cognitive scores when the radiation from the cell tower was higher but still at non-thermal levels.  Students in School 1 (124 students) were exposed to cell tower radiation at 2.010 µW/cm2 at a frequency of 925 MHz for 6 hr a day, 5 days a week. Students at School 2 were exposed to cell tower radiation  at 10.021 µW/cm2 at a frequency of 925 MHz for 6 hr a day, 5 days a week.  Both groups had exposure for 2 years. Cognitive functions tasks were measured by the Cambridge Neuropsychological Test Automated Battery (CANTAB). Participants were excluded who had any confounding factors , i.e. those with any pre existing illness, on any medications, with history of anxiety or attention problems, frequent use of cordless or cell phones, use of Wi-Fi routers in their bedrooms, or those who lived near high transmission lines or cell towers.
The researchers used the Cambridge Neuropsychological Test Automated Battery (CANTAB) to measure cognitive functions tasks.
They found "a significant impairment in Motor Screening Task (MOT; p = .03) and Spatial Working Memory (SWM) task (p = .04) was identified among the group of students who were exposed to high RF-EMF produced by MPBSTs.
High exposure to RF-EMF produced by MPBSTs was associated with delayed fine and gross motor skills, spatial working memory, and attention in school adolescents compared to students who were exposed to low RF-EMF. Most notable is that the current FCC safety "guidelines" for 30 minute exposure are 1000 µW/cm2..  This FCC limit is 100 times more RF than the students experienced in the highest exposure group that showed cognitive decline and with non-thermal effects.
Study here-"Mobile Phone Base Station Tower Settings Adjacent to School Buildings: Impact on Students' Cognitive Health. Mao SA et al. American Journal of Men's Health. December 7, 2018. https://journals.sagepub.com/doi/10.1177/1557988318816914